Mobile phones with the BlackBerry platform 10 for first will be officially announced by Research In Motion (RIM) on January 30, 2013.
Until now, RIM is still not willing to divulge what the product will be launched at the event. However, rumors circulating in cyberspace shows that RIM will introduce the product with a full touch screen phone called the BlackBerry Z10 at this event.
Photos appearance and specifications of the BlackBerry Z10 also has repeatedly appeared in cyberspace. However, the price of the product is still a mystery.
A few days before the launch date, many stores and operators outside Indonesia that opened the pre-order the BlackBerry Z10.
Most operators and stores are opening the pre-order for this device unfortunately still does not include the price of the product. However, it turns out, whether intentional or not, there's a Canadian store called CanadaGSM that reveal the price of this product.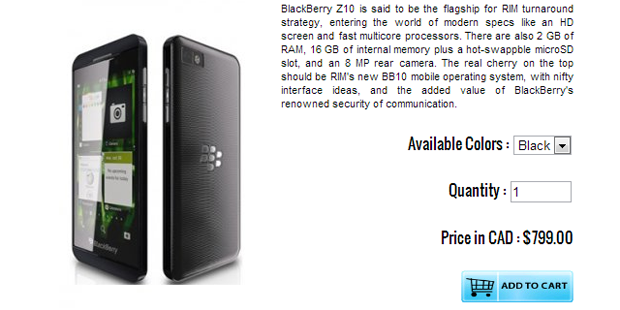 CanadaGSM put a price BlackBerry Z10 with a fairly high at 799 Canadian dollars
High prices are priced CanadaGSM This is similar to what is disclosed Hastings Singh, Managing Director of RIM, the KompasTekno some time ago.
At that time, Singh said, the early products of BlackBerry 10 will go to premium and will be positioned as opposed to the Samsung Galaxy S3 and iPhone 5. This assumption raises BlackBerry Z10 will be sold at a price not too different from both the mobile phone.