U.S. prosecutors said the suspects wore status in five people who allegedly created and then spread the
virus
that has infected millions of computers around the world.
According to prosecutor named Gozi virus was used to access banking information and steal money worth millions of dollars between the years 2005-2011.
The suspects included a Russian national, Latvia and Romania are accused of running the operation 'network of modern bank robbery, no weapon or mask'.
All three are 20 years old and is now languishing in a holding cell.
Nikita Kuzmin, Russian citizens 25 years, pleaded guilty to various charges imposed on Mae 2011, the Attorney General said the U.S. Attorney Preet Bharara told a news conference in New York, Wednesday (23/1) local time.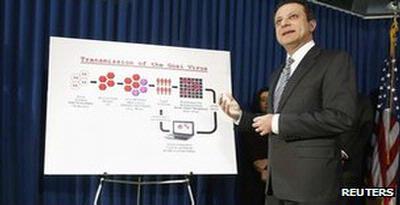 While the two other suspects, Mihai Ionut Paunescu, 28, Romania and Deniss Calovskis nationality, 27 years old, from Latvia, litigation is ongoing.
According to the investigation which still continues in the U.S., these unlawful operations originated from Europe and then spread to the U.S., where even 190 computers belonging to the U.S. National Space Agency NASA also participated infected.
According to Kuzmin and his fellow officers, who were given the name calling and the Miami-Virus successfully made at least 50 million U.S. dollars (nearly half a trillion dollars) of illegal funds from the use of the spread of viruses.
"This case should be a warning to banks and consumers for
Internet crime
remains to be one of the threats we face, we will not be able to finish in a short time," said Attorney General Bharara.
He also said that working with a number of European countries including the UK, in an effort to trace the criminal groups as well as the financial impact has not been revealed.