The telecommunications company Ericsson product showcase their research, called Connected Me, the LTE Asia 2012 event in Singapore on Tuesday (18/09/2012).
KompasTekno had tried Connected Me, and felt as if the human body like a USB cable and Bluetooth are the link between one device to another.
Connected Me consists of two discs, the receiver and transmitter. On this occasion, Ericsson has been connecting Connected Me and TV with Android smartphones that have been filled digital music files.
When a hand is placed into the second disc Connected Me, smartphone automatically plays songs and his voice came out of the television. Yes, the human body acts as a conductor that connects Connected Me, smartphones, and televisions.
When one hand is raised, then the music will stop. Music re-spins if the second hand is placed on the plate again.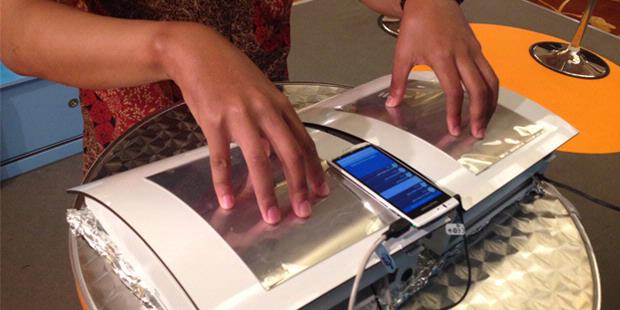 Connected Me devices made ​​by Ericsson, which consists of two discs receiver and transmitter
Connected Me is a project of the Swedish company's future. The main idea is: the human is possible to send digital data simply by touching an object. Digital data that can include information content, images, music, to business cards.
"Only by shaking hands with someone, then you have sent or exchanging business cards," said an employee of Ericsson Singapore that explains the obsession future Connected Me to KompasTekno.
It could even be in the future, the earphones that you plug in the ear can connect with you bag a smartphone in your pocket, because both besentuhan the body.
Parties Ericsson said, Connected Me using a technique they called "capacitive coupling," a technique that utilizes an electric element in the human body. Technique someday provide new experiences for people to connect all the devices he has.
So that the data sent was not stolen by others, Ericsson has limited data transmission over objects that touched people.
Connected Me was first introduced in January 2012 at the Consumer Electronics Show in the U.S.. The device is still in the research and development stage, and has not been marketed in bulk.