Exchange data just by turning a chirp? That concept was introduced by Chirp, an application for
iPhone
.
Chirp allows users to
send
data like the sound of birds singing over two seconds. Another device "hears" the sound will be instantly sent the download file.
Way, the first user data uploaded to the server manufacturer's Chirp. Pertinent data is then given a unique code. Well, every chirp refer to this code.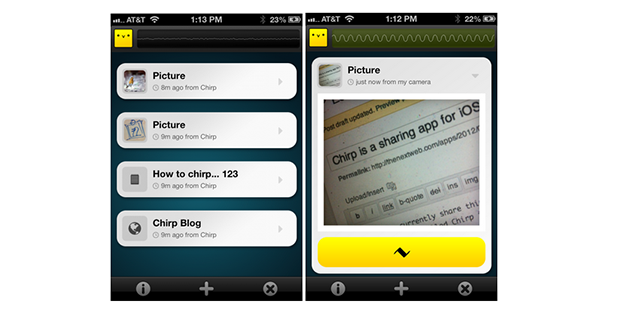 Chirp uses 50-bit address space is said to have a unique ID in the trillions. ID code is then converted into an audio form that can be recognized by other smartphone devices.
Chirp is a homemade software Animal Systems from University College London.
Android
applications such as Beam, Bump, DataSync or Dropbox also allows users to do the same via Bluetooth connection, WiFi or network cloud. However, Chirp is more practical because it does not require the pairing or connecting to a wireless network.
This software is also able to send data to more than one device at a time. If the smartphone the recipient is not connected to a cellular network, "chirp" is saved to be used to donwload the file at a later time.
Patrick Bergel as Chief Executive Animal Systems said that, thanks to a unique sound pattern, Chirp can work in noisy environments such as pubs, clubs, or on the roadside.
"Looking ahead later Chirp can be used between devices, for example when you want to send a link contains a map of the laptop," he said, as quoted by the BBC.
When this type of file can be transferred is merely an image, link to the website, or a 140 character message. All these items appear in the newsfeed, similar to the timeline on Facebook.
Animal System using the service "blacklist" to prevent users from uploading pornographic content or links to websites containing illegal content. Even so, the company is not planning to block other types of content.
For a while the new Chirp is available as a free application for iPhone, Android version of its promised would "immediately" to arrive.