Nvidia graphics chip manufacturer sent a response to accusations made ​​about the difficulty of using their products on the Linux operating system. The accusations leveled by the creator of the kernel Linux Linus Torvalds last week while speaking at the Aalto Center for Entrepreneurship at Otaniemi, Finland.
In response, Nvidia said that the company supports the use of the graphics chip (GPU) on Linux with GeForce his general driver is also used in other platforms, but it was not designed specifically for Linux infrastructure.
The reason, says Nvidia, is that Linux users can get the support of new GPU products, as well as similarities OpenGL driver support and performance with Windows driver version.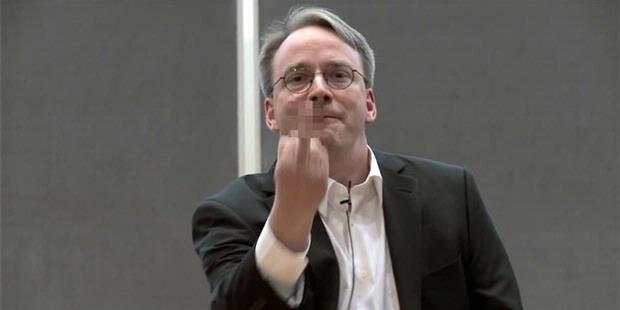 Inventor of the open source Linux operating system, Linus Torvalds, raised middle fingers
and pulled out a word addressed to the processor and graphics card manufacturer Nvidia
Public Relations Nvidia also explained that it participated actively in the development kernel Linux version of the ARM for System-on-chip Tegra 3 of the Taiwanese company.
Previously, Linus Torvalds has accused Nvidia because it does not fully support operating systems such as Windows and Mac OS. In fact, according to Torvalds, Nvidia has a lot to take advantage of Linux for using the Android operating system based on Linux kernel to get into the competitive arena of mobile products.
Torvalds had shed his frustration with the middle finger to the camera and throw harsh words intended for Nvidia.