Research In Motion (RIM) signed a Memorandum of Understanding (MoU) with the Institut Teknologi Bandung (ITB) on the development of RIM Innovation Center.
The goal is to score more developers (developers) in particular the BlackBerry application in Indonesia.
RIM Managing Director, South Asia Hastings Singh follows a memorandum of agreement describes a memorandum of understanding in March stating that RIM invest $ 5 million dollars over five years to build RIM Innovation Center in ITB.
"RIM wants to develop ecosystem of information, technology and communication in Indonesia. ITB is a prestigious institution in Indonesia and is a good partner of RIM to cooperate in a progressive initiative, "Singh said after the signing of the cooperation between RIM and ITB ITB Campus in Bandung, West Java, on Tuesday (22/05/2012).
In addition to print more developers, RIM is also desirous that the construction of RIM Innovation Center is able to build an entrepreneurial spirit, especially in the IT world for students.
Even be bridged with the other developers to develop applications BlackBerry platform.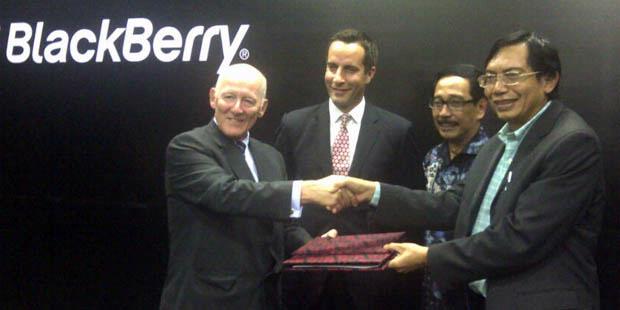 RIM Indonesia President Director Andy Cobham, Managing Director of South Asia RIM Hastings Singh, Deputy Coordinating Minister for Economic Affairs, Trade and Industry and representatives of Edi son Irawady ITB Suhono Harso Supangkat Professor at the signing of development cooperation RIM Campus Innovation Center ITB Bandung in West Java, on Tuesday (22 / 5/2012).
Later, in that place there will be a training center for research and development (research and development) applications, educational programs, incubation, up to a scholarship competition.
"We have a vision that by investing in this ITB we can put Indonesia as a key center of innovation for application development and mobile content in South East Asia region and around the world," he added.
Prof. Dr. Akhmaloka, ITB Rector added that he is very pleased to work with RIM in the development of RIM Innovation Center. RIM and ITB have the same vision for the empowerment of research and training for application developers.
"The hope may lead to the creation of new jobs and businesses in the area of ​​mobile computing is growing very rapidly," added Akhmaloka.
In this MoU, RIM and ITB will open training courses for ITB students so that they can learn to develop and market mobile applications.
This investment will also provide scholarships, seminars and conferences as well as the various initiatives which will trigger the development of applications that are innovative and entrepreneurial spirit.
The plan, RIM Innovation Center will open this year.